Link to
Howie on 20/20
-
"Hand rails are my enemy" says "Deal or No Deal"

By JESSICA HADDAD,
ERIC M. STRAUSS
(
@ericmstrauss
) and
DAVID MUIR
(
@DavidMuir
)
People know
Howie Mandel
as a comedian, actor and game show host. But what many fans don't know is how much he suffers from a
crippling fear of germs
-- something he has joked about before, but never spoken seriously about until now.
Like many of the 4 million adults who suffer from OCD, Mandel's most frequent obsession is
germs
, but can manifest itself in countless ways that trigger a silent loop of the question 'What if...' in his mind.
"I'm always on the verge of death in my head," he told "20/20."
ABC News' David Muir followed Mandel for two weeks behind the scenes on the set of "Deal Or No Deal" in Connecticut, at his beautiful California home, and in his spotless Las Vegas penthouse suite at the MGM Grand, where he performs 40 nights a year.
It is quickly evident that Mandel is a gracious family man who loves to entertain, is living his dream, albeit in constant fear.
On the set, instead of
shaking hands
, Mandel does the fist bump -- his trademark greeting on "Deal Or No Deal" -- to work around his germ anxiety.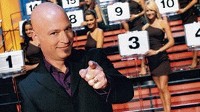 "In my mind [my hand] is like a petri dish. ... Otherwise I would spend the day, as I have in the past in my life in the men's room rubbing and scrubbing and scalding," he said.
Mandel lays out the fist bumping rules to all the contestants that stick out their hands to meet him on the show. But his OCD goes far beyond that.
Off stage, it's all consuming. His makeup artists must use brand new sponges every day. He won't touch his money unless it's been washed. He avoids hand rails like the plague. "Hand rails are my enemy. I never go near a hand rail," he said. Even Mandel's trademark bald head is this way by choice. "This feels so streamlined and so clean," he said.
At times, his "irrational" fears can strike at the most inopportune moments.
"The biggest fear I have is being triggered," he said. "And if I'm triggered and I get some sort of weird thought in my head that can't go, then my day is, is stopped. My life stops."
Mandel is going public with his struggle with his OCD in a humorous autobiography entitled, "Here's the Deal: Don't Touch Me," which hits bookstores today. He reveals the unusual set of rituals and the terrifying role that OCD consumes in his life.
"I once missed an appointment because I left my house, I locked the door. And then I thought, like anybody else, you know, I don't think I locked the door. I just kept going back to the door. And I couldn't stop myself from checking and checking," he recalls.
Mandel checked the lock 32 times before he took his fist and punched the handle.
"I thought if I felt the pain in the door, then I know for certain. But intellectually, I know I had checked the door. So why am I going back? I can't get past the thought, whether it's thoughts that go into your head. Fears. Thoughts, horrible images, or whatever," he said.
Mandel Battles OCD, ADHD as Kid
Born and raised in Toronto, Mandel grew up in a self-described loving family. As long as he can remember, he had an
unhealthy fear of germs
. He said kids made fun of him because he couldn't tie his shoes.
"Well, I could, but I didn't want to touch it. But I don't want to say I'm afraid to touch it because it's dirty, so I didn't," he recalled.
Howie Mandel on Dr. Drew
OCD Story part 1
Part 2